December 7, 2015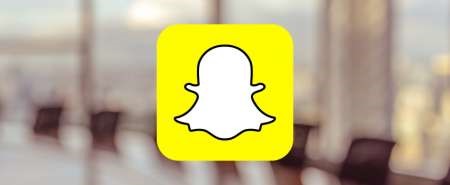 Why Snapchat is for everyone
A colleague of mine recently shared the tweet below as a humorous example of public figures and brands joining Snapchat and recognizing its importance in reaching younger generations. As evidenced by Bernie Sanders' tweet announcing his new Snapchat account, while public figures and brands realize the importance of this social channel, they aren't always sure how to use it to their advantage. With over 100 million daily active snapchatters and 5 billion video views every day, however, Snapchat can't be ignored. It is considered to be the best way to reach 13 to 34 year olds, with 86 percent of users under the age of 34. Stats like those should be enough for everyone to take notice.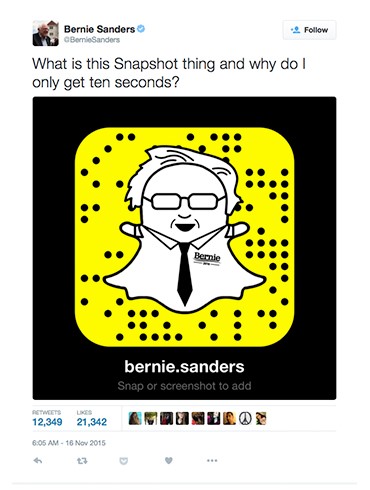 While the app is wildly popular among millennials, older generations haven't caught on yet – even though Snapchat has been around since 2011. Neither have many marketing and communications departments. But they should. You may already be active on Facebook, Twitter and Instagram, but there is plenty of opportunity to get comfortable with a new platform and mix Snapchat into your social media strategy. The challenge for marketers: how do we take full advantage of the platform? The trick is to engage users with fun, interesting content and drive them to your brand without being overly promotional.
The basics
Whether you're a social media-savvy millennial in need of a refresher or a member of a more "advanced" generation, here's a quick Snapchat primer:
A snap is a photo or video that you can send to friends and followers. Users can add text, drawings and emojis to further personalize their snap and engage with other Snapchatters. Don't get too attached to it, though. The main feature of a snap – which also adds to the app's notoriety – is that it disappears in 10 seconds.
Stories are a series of snaps that are intended to create a narrative. When you add a snap to your story, it lives for 24 hours before disappearing. For marketing purposes, stories are the most important function of Snapchat. Brands can create collections of photos and videos that will have greater longevity than a typical snap.
How to get started
As Sanders has already established, Snapchat is not yet a mainstream social media channel that everyone is comfortable using. But, if you're targeting millennials it's one way to get their attention. And other generations will eventually catch on.
As we near 2016, consider including Snapchat in your social media strategy budget. Add a chapter to your social media playbook, conduct training or a workshop to ease your company into using the channel and start snapping. If you need ideas on how to get started with Snapchat to tell your company's story, check out brands like GE or Starbucks.
Or, if you're like me, go ask one of the youngest millennials in your office.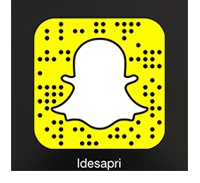 As you navigate your way around this app, feel free to email me any questions – or snap me at the username to the left.