October 20, 2014
Before joining Dix & Eaton recently, I worked for a corporation with an array of brands under its umbrella. Through an acquisition, the organization had grown from about eight brands to around 15, and the question came up – should we push the "master brand," or parent company, now that the company is a powerhouse of brands?
I think the answer should be "yes" for B2C and B2B companies alike.

With industries consolidating and companies acquiring competing businesses and brands, it can be challenging to keep all of the product brands top-of-mind. Promoting the master brand, or parent company, can help build brand awareness and loyalty to key stakeholders, including:
Analysts and Media: Recognizing all of the brands that fall within the public company can assist when writing news stories and reporting financial updates.
Customers: Seeing the products that fall under the master brand can help promote cross-selling if the customer is already a product loyalist.
Employees: Recruiting top talent is always a hot topic – but when potential employees understand the span of brands, it can make an offer seem more appealing; additionally, having current employees understand all of the brands within their company helps them become brand ambassadors.
A simple way to promote the master brand is to use the parent company website effectively. Yet finding the balance between promoting product-specific brands and the master brand can be tricky.
Here are five ways your parent company website can work harder: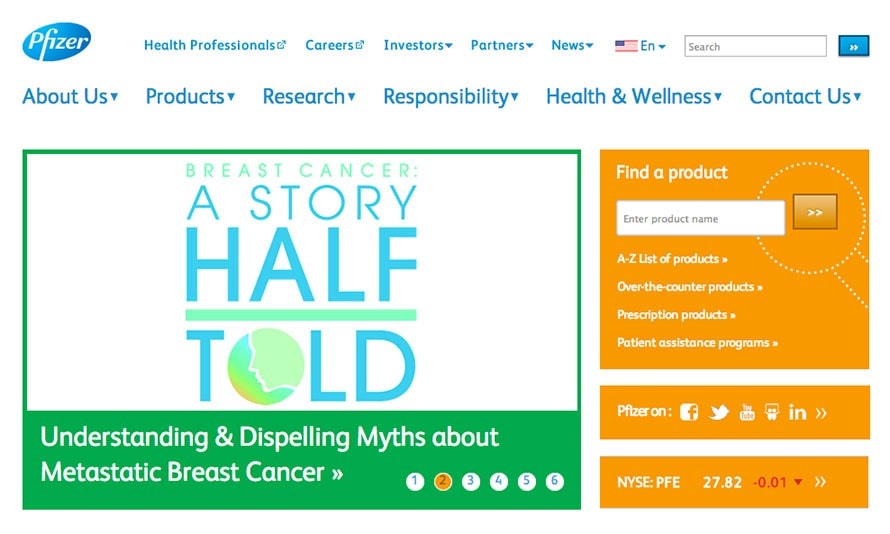 1) Include a content slider with news scrolling on the home page.
Your brands are working hard and doing great stuff – so why not showcase them? When a brand distributes a press release, be sure to include its headline and an image in the content slider. And don't forget to include master brand news in this as well. For B2B companies, this is an opportunity to showcase the array of industries and business units that fall within the parent company. The content slider can be a repository of brand and industry news and is a great way to show the breadth of the parent company.
The content slider on the Pfizer website is visually appealing and connects to news about research and health trends.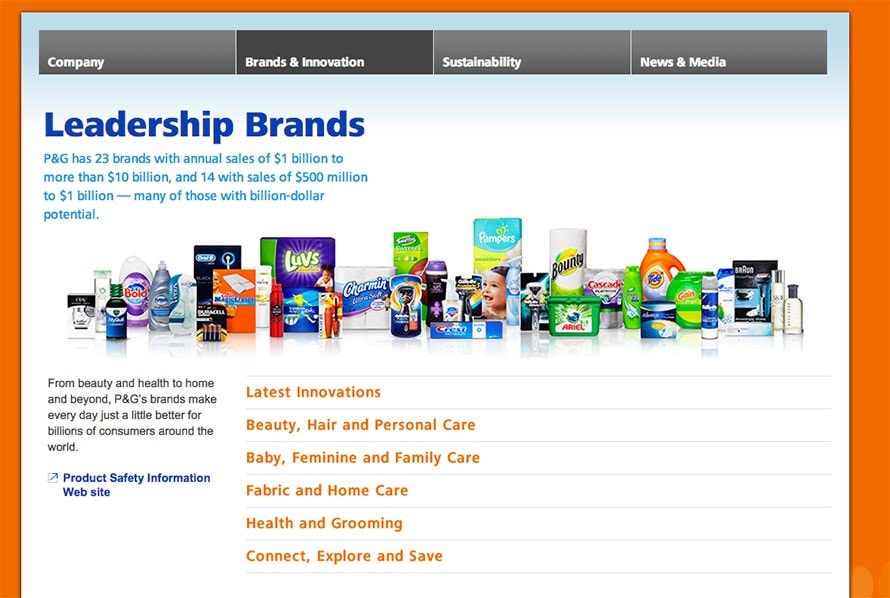 2) Represent all of your brands visually.
Many companies have an "Our Brands" section with the brand names listed, which is a start. But for more impact, showcase pictures of the products to jog consumers' recollection of the brand. B2B companies can demonstrate this on their pages by including photos of the product segments.
Procter & Gamble does a nice job of displaying its brands visually.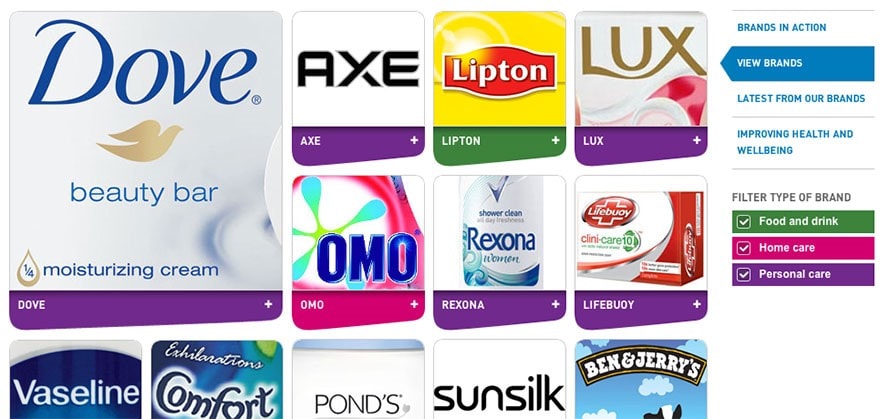 3) Group the brands by product type.
Typically a parent company has more than just one type of product. Grouping and color coding the different product segments helps people locate the specific product they are looking for, and shows what other products in that same segment are available from the parent company.
My favorite example of this is on the Unilever website – the visuals and color coding are visually appealing and make it easy to view all the different types of products.

4) Put the brand information in a consistent template.
When searching on a parent company's website, brand-specific sites should give a quick description of the product, news stories and links to other information about the brand. For these microsites, keep it on the parent company website template. This will keep it simple and consistent with the rest of the page. This is especially important in B2B situations when there are different industries and business units with discrete marketing managers.
Nestle does a great job of representing all its brands in a short, consistent way, no matter the product.

5) Display the multiple channels your product brands use to communicate with consumers.
Is YouTube where you showcase your brand? Do you connect with consumers on your Facebook page? Is the brand website the only spot where consumers can learn more? Be sure to link all of those channels from the brand-specific site to the parent company's website so consumers have a number of ways to connect with the brand.
Hillshire Brands does a great job of linking to different social channels.
How effectively does your parent company's website promote its brands? When you compare your site to these five tips, how do you measure up?
If you'd like us to take a fresh look at your page, contact us today.