July 20, 2016


Snapshots from downtown is a brief roundup of what the D&E team is seeing, hearing and doing leading up to and during the Republican National Convention. For all posts like this, click here.
TUESDAY, JULY 19, 2016
4 p.m.: The Atlantic has set up its RNC headquarters at Blue Point Grille on the corner of West  St. Clair Avenue and West 6th Street. Each day throughout the convention, the publication is hosting a variety of speakers and panels related to the RNC and trending political topics.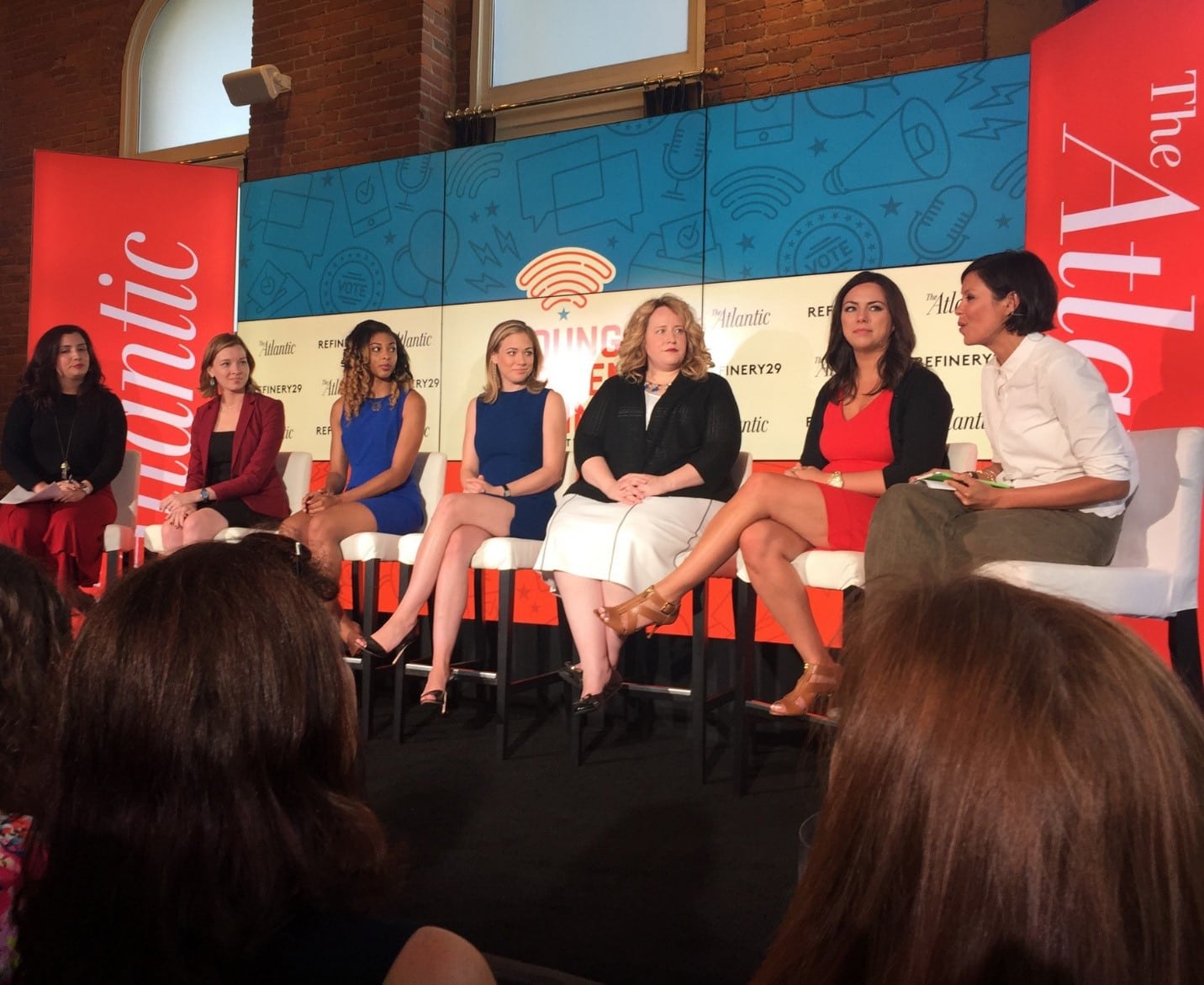 The "Young Women Voters: America's Next Top Voters?" panel co-hosted by Refinery29 was promising. According to The Atlantic, "the number of eligible millennial voters is about equal to the number of baby boomers who can vote." Because of this, the political world is tapping into female millennials' voting habits.
John Della Volpe, director of polling at the Harvard Institute of Politics, shared insights into the factors driving millennials to engage in politics and vote, noting that he "wouldn't be surprised if more young people will volunteer than vote."
During another panel, Kristen Soltis Anderson, a pollster for Echelon Insights, told the audience, "Millennials are very focused on empathy, justice and equality." Fellow panelist and NBC and MSNC political analyst Elise Jordan noted that the No. 1 concern for young women voters is the economy.
̶  Megan Stinn, Angela Almasy and Angela Martin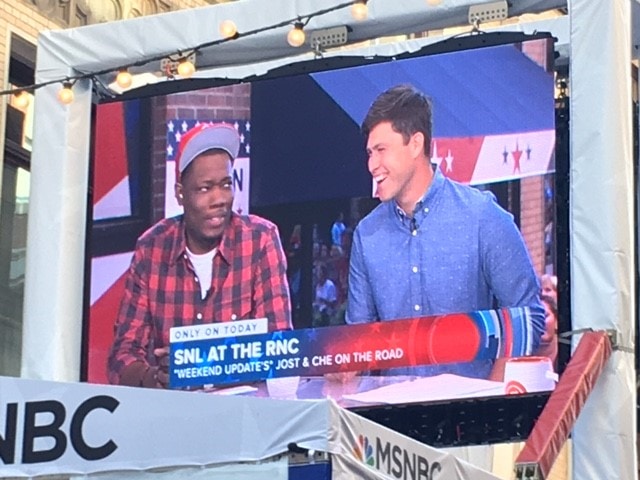 WEDNESDAY, JULY 20, 2016
7:30 a.m.:  The TODAY Show broadcast has been a popular venue this week, as it broadcasts live from the Corner Alley on East 4th Street.  Saturday Night Live's Weekend Update anchors Colin Jost and Michael Che stopped by and shared videos of their man-on-the-street interviews they filmed on East 4th Street on Tuesday.
During another segment, Cleveland's Singing Angels performed  on East 4th Street to an enthusiastic crowd.
̶  Hanna Moore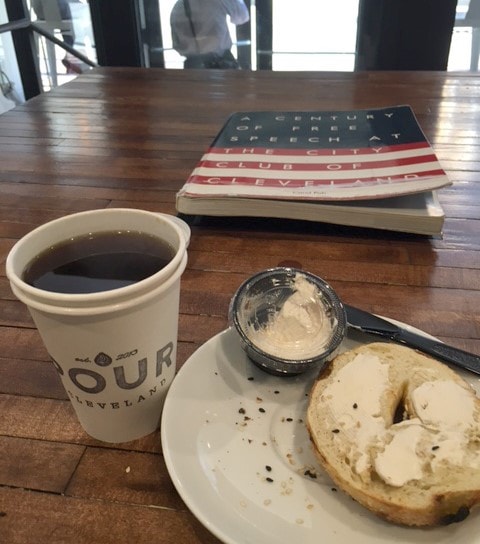 8 a.m.:  Pour Cleveland on Euclid Avenue was hopping as customers lined up to sample one of the "Cleveland Bagels" profiled on the front page of Tuesday's Wall Street Journal. The café had Cleveland history books and other patriotic reading set out on its tables.
When paired with coffee and the cherry goat cheese schmear, the sesame seed bagel hit the spot.
The early-morning streets were quiet, compared to the frenetic energy of the previous day.
̶  Dave Loomis

10 a.m.:  Fresh off his speech from the previous evening, former GOP presidential candidate and current New Jersey Governor Chris Christie visited the 200 Public Square Building for an event. He paused outside on Euclid Avenue and was interviewed. Then he took time in the lobby to talk with those going in and out from their offices.
̶  Donna Harlan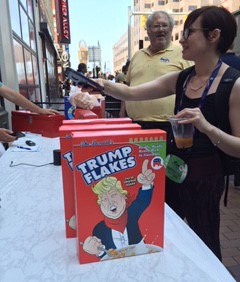 Noon:  A walk around downtown reveals some interesting and unusual people, along with some interesting and unusual novelties  ̶  like the candidate-themed breakfast cereal, Trump Flakes. The cereal's two creators, Dan Malafronte and Darrin Maconi, are hoping to raise money for tuition at Brookdale Community College in New Jersey.  Price for the Trump collector's item is $40 per box. Next week they go to Philadelphia to sell Clinton Crunch, which they hope will be more popular with DNC attendees.
̶  Lisa Rose
1:30 p.m.:  Media have filled downtown Cleveland all week, hosting panels and other events. Politico, sponsored by Microsoft, hosted an event at the 925 Building on Euclid Avenue featuring leaders in energy, and how Donald Trump and Hillary Clinton are resonating in battleground states.
Karen Harbert, president and CEO of the U.S. Chamber of Commerce's Institute for 21st Century Energy, Jay Faison, founder and CEO of ClearPath Foundation, and Jai Chabria, managing director of Mercury,  discussed the energy policy issues facing the next president.
After the event, reporters were able to observe 3D printing of RNC coins and virtual reality games.
̶  Brooke Hollowell