July 13, 2016


Snapshots from downtown is a brief roundup of what the D&E team is seeing, hearing and doing leading up to and during the Republican National Convention. For all posts like this, click here.
WEDNESDAY, JULY 13, 2016
8 a.m. : Cleveland's $50 million newly renovated Public Square hosted hundreds of protesters from Raise Up Cleveland, who voiced their support for raising Cleveland's minimum wage. The peaceful protest provided a prelude to the demonstrations that the city has spent months planning for.
So far, over 60 organizations have expressed an interest in protesting during the convention. The groups include those commenting on issues ranging from foreign policy to the environment, race, abortion, nuclear weapons and a variety of other topics. Notable national groups include the Westboro Baptist Church, Oath Keepers (current and former military members supporting constitutional rights), AIDS Healthcare Foundation, Bikers for Trump and more.
Cleveland is a diverse city, filled with a variety of viewpoints. Rarely, if ever, has the city served as a platform for such a wide spectrum of causes.
– Carly Bartels
10 a.m.: Steel barriers are lining the streets around "The Q," the venue hosting the 2016 RNC Convention, like stacked metal racks to be set up for crowd control. Workers are beginning to measure and assemble the barriers. Soon they will be up on Euclid Avenue, Prospect Avenue East, Huron Road East and elsewhere, establishing boundaries to funnel foot traffic and secure areas.
– Brooke Hollowell
1 p.m.: The political transformation of downtown Cleveland's Gateway sports complex  is picking up speed.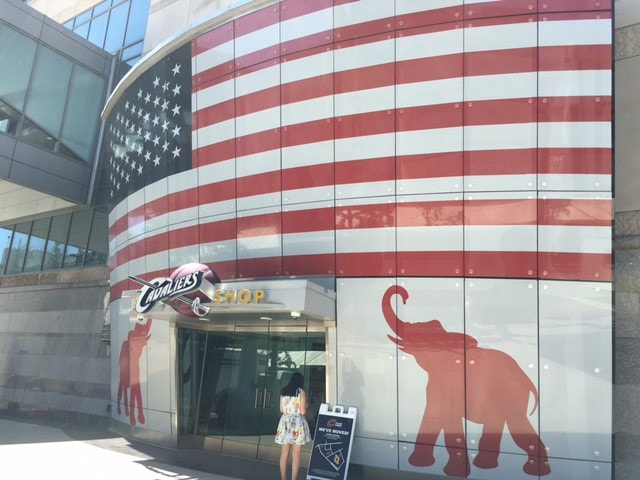 "The Q" now boasts red, white and blue political banners instead of photos of the world champion Cavaliers.  Nearby, the 10-story poster of LeBron James still hangs in its place of honor.
State flags now hang along the exterior of the Gateway East parking garage, where parking spaces have been converted into 160 carpeted offices for television, radio and online outlets.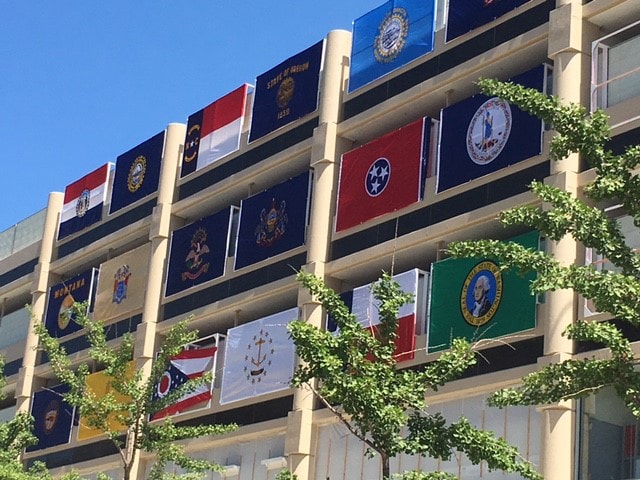 The Cavs spirit shop has been altered.  Swords and basketballs have been replaced by flags and elephants.
Next door, Progressive Field is now "Freedom Plaza" and a private marketplace for delegates.  An outside sound stage is ready for concerts.  Hundreds of people are finalizing construction or entering "The Q" with badges and cameras hanging around their necks.
– Dave Loomis
1 p.m.: The Today Show has arrived in downtown Cleveland and is moving into the Corner Alley at the corner of East 4th and Euclid Avenue.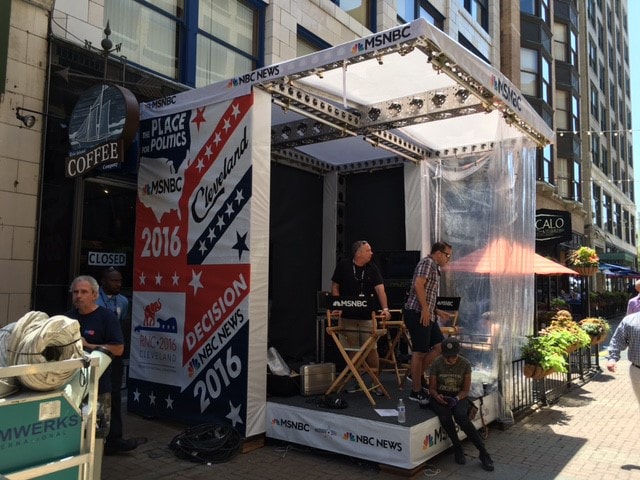 Rather than the restaurant and bowling alley's clear walls of glass, the Corner Alley now sports stars and stripes. Workers have also begun assembling a media stage outside the front entrance. Soon, media will completely overrun East 4th;  MSNBC appears to have completed its work on Erie Island Coffee. Cleveland.com reported that the Washington Post is taking over Butcher and the Brewer on East 4th.
– Brooke Hollowell