March 29, 2017


Jay Clayton is likely headed for a smooth confirmation by the U.S. Senate to be the new chairman of the Securities and Exchange Commission (SEC).
We already have a pretty good sense of what Clayton, a high-profile corporate attorney with Sullivan & Cromwell LLP, is likely to focus on, based on his March 23, 2017 testimony before the Senate Committee on Banking, Housing and Urban Affairs:
He said current SEC regulations have made it "too costly to become a public company," and, as a result, there has been "a dearth of IPOs" in recent years. Clayton noted that the number of U.S.-listed public companies is down over 35 percent from 1997. In 1996, there were approximately 845 U.S. IPOs, while in 2016, there were approximately 128. Clayton's client work has included advising Alibaba Group Holding Ltd., the Chinese e-commerce company that completed the largest-ever IPO in 2014, valued at $25 billion.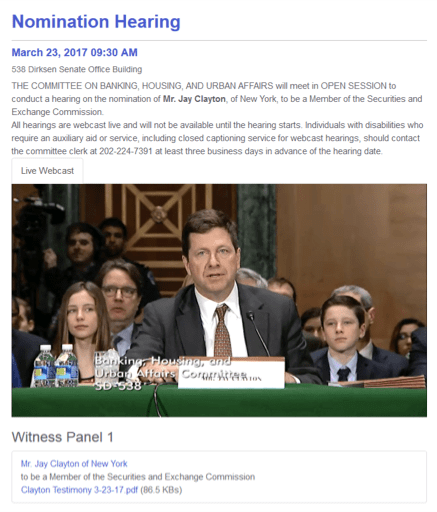 Clayton called for "easing the on-ramp to the public capital markets." He noted that IPOs not only generate growth opportunities for companies, employees and customers, but also create additional investment options for everyday shareholders, 401k participants, 529 plan holders, IRA holders, pension plans, endowments and so on.
He expressed strong support for the 2012 Jumpstart Our Business Startups Act, which makes it easier for companies with less than $1 billion in annual revenue to go public. Clayton said the 2010 Dodd-Frank Wall Street Reform and Consumer Protection Act and the subsequent regulations to implement it are among the requirements that should be reviewed and perhaps scaled back. He also said cost-benefit analysis is "very important" when evaluating the efficacy of new and existing regulations.
He insisted that laws and regulations that remain on the books will be fully enforced, as he highlighted his "zero tolerance for bad actors," and said, "Individual accountability drives behavior more than corporate accountability." The tone suggested that he may support criminal prosecution of individuals in particularly egregious cases. He was further asked if he would support criminal liability for misconduct, in addition to corporate penalties, if an executive had "acted recklessly but not necessarily knowingly" – the "should have known/should have done something" question. On that point, he declined to answer specifically, and it remains one of the oft-cited challenges faced by the SEC commissioners and Congress.
Clayton acknowledged that he will have to recuse himself from a number of cases involving past clients of his and Sullivan & Cromwell – companies such as Barclays, Goldman Sachs, UBS, Valeant Pharmaceuticals International, Volkswagen, and potentially those that hire Sullivan & Cromwell in the future to represent them in matters that come before the SEC. If he is confirmed, Clayton said he would divest interest in approximately 175 investment funds and stock holdings that either he or his wife holds.
When asked about several other controversial issues, he handled them without a lot of fanfare or confrontation. Those issues included his wife's current employment at Goldman Sachs, Trump Casinos' use of non-GAAP financial reporting, and whether the SEC should mandate that shareholders have access to information about corporate political donations.
Clayton's confirmation to head the five-person panel is expected to occur within a few weeks. There are currently two other vacancies on the Commission. To ensure that the Commission remains non-partisan, no more than three Commissioners may belong to the same political party. Clayton is a registered Independent, and one Republican and Democrat are still to be nominated. Decisions are made by majority rule, with the Chairman having significant influence over the other four commissioners and the Commission itself.
Read other posts in our blog series about how the Trump Administration could impact IR.