August 8, 2016
As our talented summer interns return to the classroom or move on to begin their careers, we asked them to reflect on their experience at D&E. Each semester our interns leave D&E having been both challenged and empowered to take on real-world work and grow professionally. As you might imagine, first-hand involvement with the Republican National Convention is something they'll all be putting on their resumes. 
– Angela Almasy and Sarah Hihn, internship coordinators
'I was not hidden away behind the scenes to do menial work'
The best thing I can say about the Dix & Eaton internship experience is that I don't feel like an intern. I don't feel like a student, or an observer or a trainee. The best thing this internship has done for me is prepare me to take on a full-time role in my career field.
I've learned so many new skills during my time at D&E. New technology, new confidence, new ways of thinking. I've had my own pitches land placements in top-tier news organizations. I've interacted with reporters from The New York Times, The Atlantic, BuzzFeed and more. I've conducted brand research from the bottom up, built targeted media lists, reviewed CSR communications, monitored media coverage and offered input in client meetings. I've had a taste of crisis communications, corporate communications, media relations and branding. At the end of the day, I've done valuable work with a measurable impact.
Those experiences proved especially valuable once the Republican National Convention rolled into town. As an intern, I was not hidden away behind the scenes to do menial work. D&E sent me out to interact face-to-face with a street full of media major leaguers. Was it a bit intimidating? Yes. Am I better for it? Absolutely.
– Carly Bartels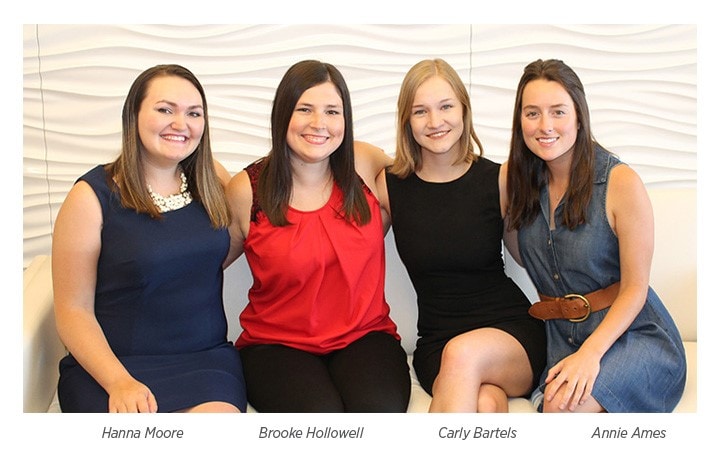 'Cleveland turned into one of the biggest media hubs in the world'
I entered my internship at Dix & Eaton having just graduated from John Carroll University with a major in integrated marketing communications and a minor in professional writing. I had held previous internships, but D&E exposed me to the different facets of agency life.
One of the biggest benefits of the internship program is that the firm takes into consideration your future career goals and tries to give you as much exposure to those areas as possible. I worked a majority of the time with the marketing communications team. All of the account executives I worked with made sure to take the time to answer my questions and tried to place me on projects in which they knew I was interested.
I was also lucky enough to be in Cleveland for the Cleveland Cavaliers NBA Championship and the Republican National Convention. During the RNC I was able to pitch more than 400 reporters, interact with media during daily events hosted by news outlets such as The Atlantic and Politico, write blog posts for D&E's blog series "Snapshots of Downtown," and witness as Cleveland turned into one of the biggest media hubs in the world. It was such a unique opportunity, and being able to get involved in marketing the city during a time when it was a major focal point around the world is something I will never forget.
– Brooke Hollowell
'I was surprised to have such a hands-on role for the convention'
Going into my senior year at Kent State University, I hoped to land an awesome internship where I could learn more about public relations, get real experience with client work, build on previous internships and expand my professional network. In a little over two months at Dix & Eaton, I can proudly say I have accomplished this goal.
The most exciting part of the internship was the work we were involved with for the Republican National Convention. The other interns and I joined Dix & Eaton's RNC team in mid-May, but the rest of the team had been working on it ever since Cleveland was announced as the host city two years ago. Some of the work I did for the RNC included creating daily media updates for a client, creating daily media coverage reports to track stories about Cleveland and help identify our placements, and sending out pitches to a list of more than 400 reporters from national publications.
I was surprised to have such a hands-on role for the convention and excited to be able to make contact with prominent journalists, both via email and in person. The other interns and I walked around East 4th St., the central hub of many media outlets, to hand out business cards and flash drives with pertinent information about Cleveland, story ideas and expert sources to journalists. Being downtown during the convention was something I'll never forget.
– Hanna Moore 
'A once-in-a-lifetime opportunity the average intern doesn't get to observe or be a part of'
Interning at Dix & Eaton has been an incredible experience and has given me insight into the PR and communications world, in which I had no prior experience. As an English major, I was looking for an internship that not only utilized my writing skills and interpersonal talents, but also provided a chance for me to challenge myself and to grow personally and professionally. Dix & Eaton gave me that opportunity.
I became known as the New Business Development intern, working closely under business development guru Dave Loomis. He took me under his wing, teaching me the process of finding prospective clients, winning those clients and how to maintain close relationships with them.
The most rewarding part of the internship was being an active participant in the preparations leading up to and work during the RNC. I contributed to our "Snapshots from Downtown" blog, attended many of the daily RNC events with national media present, spoke with reporters from different media hubs, and ultimately got to witness my hometown of Cleveland shine as it was transformed into the focal point of the country for this historic event. It was a once-in-a-lifetime opportunity the average intern doesn't get to observe or be a part of.
– Annie Ames
To learn more about the internship program at D&E, visit our Careers page.