February 1, 2017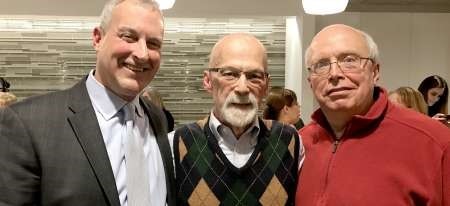 1988 was a pretty good year for Dix & Eaton.
The firm added two up-and-coming professionals to the roster that year in the form of Gary Pratt and Gary Wells, as account executive and manager, media relations, respectively.
To say those hires worked out well might be, as they say, something of an understatement.
Twenty-eight years later, "The Garys," as they've become known in the collective, are both hanging up their spurs from Dix & Eaton, and the marks of their influence – and how they've made all of us better – are all over our firm.  They're two invaluable, irrepressible partners and friends, and they've had an indelible impact on our culture, on our ability to do great work, and on how we comport ourselves as professionals.  Perhaps as one of their finest parting gifts, they both helped identify, grow and train our staff in ways that make it possible for us to keep delivering the same great results without missing a beat – and I know they wouldn't have it any other way.
The two of them have been, and will forever be, intrinsically linked.  They're the same age (actually were born six weeks apart), they joined the firm within three weeks of each other, both came up through the journalism ranks and both formerly worked at the old Cleveland Press.  Over the years, both played critical roles in running our editorial services group (Pratt) and our media relations practice (Wells), and they've been integrally involved in some of our most challenging – and rewarding – work on behalf of clients.  On engagements ranging from major accidents and disasters to Fortune 100 transactions – and absolutely everything in between – Pratt and Wells engendered trust, respect and admiration for their counsel and their execution.  On a staff stock full of seasoned, experienced pros (there are more than two dozen Dix & Eaton staffers with more than 15 years in the business), the "Garys" were two of the sage players you could count on when the stakes were high.
Gary Pratt has no peers when it comes to sterling writing and synthesizing information in an articulate format.  I don't say that lightly – his speed and his ability to translate complex ideas, often working under the pressure of extreme deadlines and white-hot scrutiny, are unmatched.
Gary Wells has no equal when it comes to media relations expertise and experience.  He built our media relations practice from the ground up, took it global before global was cool, built relationships that allowed him to secure placements with media that others only dared to dream about, and did it all with a calm and confidence that inspired others.
However, for both of them, the imprint on our firm is about so much more:  their mentoring, coaching and encouragement of others; their willingness to always – ALWAYS – go above and beyond to ensure the best possible outcome; the fervent love of the Cleveland Indians (Pratt, who got the opportunity to throw out the first pitch at a game with all of his Dix & Eaton colleagues in attendance last season); the unbelievable bank of knowledge related to movie lines (Wells); the ability, as Pratt often said, to take our work seriously, but not take ourselves too seriously; the fantastic sense of humor (both); and the inherent integrity to always – ALWAYS – do the right thing.
Pratt and Wells are two completely unique and completely original individuals, and it's a joy for all of us to see them excited and energized about their upcoming plans (both plan to travel, enjoy time with grandkids, etc.).  Their respective legacies are that they've represented everything that is great about our organization, they trained others on their crafts, and we're each enriched as people and professionals for just having had the chance to work with each of them.
I walk down our halls and I see the keystones of their work – quality, intelligence, excellence – embedded in the colleagues with whom they worked, and in the high-bar standard of service and counsel that was their collective calling card.  I'm so proud to call both of them friend and colleague.
On the subject of lasting impact … well done, guys – very well done, indeed.