June 2, 2017


There is a new flavor of sustainability reporting from which to choose. JetBlue, the low-cost airline that is now the sixth-largest carrier in the United States, has piloted "the SASB report" with its 2016 report.
SASB is the Sustainability Accounting Standards Board, which was formed in 2012 to create a framework for disclosure of material sustainability factors by U.S. public companies. The intention is to create the same level of scrutiny of, and confidence in, sustainability data as has been mandated for public companies' financial data. The SASB standards are highly targeted, with material issues specifically identified in standards for 79 industries – from Advertising & Marketing to Wind Energy. Companies in one industry, such as JetBlue, have one relatively small set of standards to address. Companies in multiple industries will need to look at each relevant industry's SASB standard.
The ultimate implementation of SASB's mission would be for the sustainability data to be integrated into companies' Annual Reports on Form 10-K. That will be a major challenge for many companies. JetBlue's approach is a relatively safe step in that direction.
JetBlue's SASB report is a 22-page, industry-specific, investor-focused sustainability disclosure document. It focuses on four topics that SASB has determined are material for the airline industry:
Environmental Footprint of Fuel Use
Labor Relations
Competitive Behavior
Accidents and Safety Management
The loosely formatted document is a very clean, simple report that focuses on the data and reporting to SASB's Airlines standard. The report has an executive summary and a "management approach" section for each of the four topics; uses a few simple data tables; and has no theme or photos. In addition to this report, JetBlue publishes its 10-K for full financial disclosure and shares its sustainability success stories and examples online. It no longer publishes a glossy annual report or a Global Reporting Initiative (GRI) report, the latter of which was 54 pages in the previous year.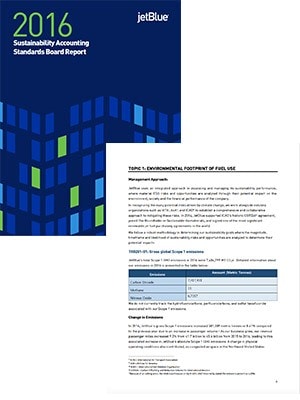 JetBlue's SASB report was the focus of a presentation last month at the Sustainable Brands conference in Detroit. The speakers were Sophia Mendelsohn, JetBlue's director of sustainability, and Karl Pfalzgraf, vice president of sustainability services for iCompli Sustainability, a Connecticut-based consulting firm that helped JetBlue with its SASB report.
Their comments included: "SASB is cleaner and more modern." "It's black and white, while GRI is trying to be everything to everyone." "SASB is the floor and you can always add more to it based on specific company situations." Mendelsohn said the internal resources required, outside costs, duration of the project and so on were all significantly less for the SASB report than the previous annual and GRI reports. She also noted that JetBlue has continued to look for ways to streamline its sustainability reporting commitments and options, including not participating in the Dow Jones Sustainability Index (DJSI).
Based on the Sustainable Brands session and some additional conversations, here are a few observations on how "the SASB report" concept might fit into the sustainability reporting continuum:
If you are in a one- or two-industry company, such as an airline, the industry-specific SASB standards could work very well for you. If you have seven segments, your operations are far-flung, your sustainability data are uneven and so on, then SASB may be a challenge for you.
The SASB format is not likely to be warm and friendly. The language, even if you can get it into plain English, will likely remind you of the Form 10-K. Most companies will want to pair it with some intensive employee engagement and online story-telling, which JetBlue is doing. That's significant extra work, but probably not as much as a full report in accordance with the GRI standards.
SASB was created for, and generally serves the needs of, investors in U.S. public companies. SASB on its own will likely fall well short of addressing the interests of all stakeholders (much like the annual report, 10-K and other financial reporting are investor-focused and not designed for ready consumption by other stakeholders).
The SASB report may work for companies that want to err on the side of simplicity and directness, and avoid the complexity and nuance of GRI reporting or integrated reporting.If companies move toward the SASB report, I think we can expect a re-ignited rivalry between GRI and SASB (after a year or so of relative calm and collaboration).
Stakeholders that are used to having access to the full GRI report may not understand the new approach, although JetBlue's Mendelsohn said she has not heard of any major concerns so far.
The SASB report is a new flavor of sustainability reporting, and it's worth a look, but it's not going to suit everyone's tastes.
Let me know if you would like to talk about how to evaluate the increasing array of options.