October 26, 2016
Fantasy Social: LinkedIn Publishing vs. Medium



Like football, B2B social media isn't always won with extra points and field goals. Sometimes it's a four-quarter effort to get as many touchdowns as possible. Ten-second videos and 140-character messages can sometimes bring in the win for your organization's social media efforts, but more often than not, long-form storytelling can be the offensive play strategy that gets the best results.
In this round of Fantasy Social, I'll be putting LinkedIn Publishing and Medium in a head-to-head competition to see which storytelling platform might work best for your B2B Business. (For a refresher on the criteria used in Fantasy Social, check out this post from my fellow analyst Lisa Zone).
LinkedIn Publishing is an extension of LinkedIn and allows individuals to write long-form posts about business, leadership and newsworthy topics that interest them. Medium the creation of Twitter co-founder Ev Williams in 2012,  provides a platform for social journalism that extends beyond Twitter's character limit.
So how do these platforms stack up against one another? Let's find out.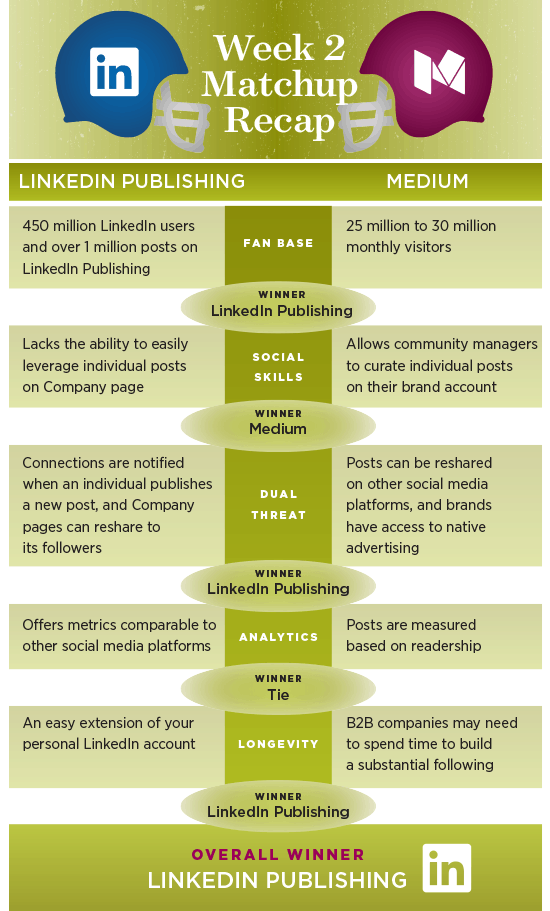 Fan Base
LinkedIn Publishing:Known for generating more leads for B2B companies than Facebook, Twitter or individual blogs, LinkedIn has approximately 450 million users as of Q2 2016, and LinkedIn Publishing had its millionth member publish a post back in 2015. With its focus on building business relationships and creating a space for business thought leadership, LinkedIn Publishing's demographics consist of business professionals, leadership experts and top-performing companies from a variety of industries.
Medium:Developed for writers, Medium has a variety of users – from aspiring satirical columnists and novelists to well-known companies such as GE, Starbucks, Intel and BMW. According to a January 2016 Money interview with Williams, Medium averages between 25 million and 30 million monthly visitors. However, there is no public data on how many active users this social media platform has.
Winner: LinkedIn Publishing
Because it's designed for the business community and has a large user base, LinkedIn Publishing is the clear winner.
Social Skills
LinkedIn Publishing:Even a social media novice can use LinkedIn's Publishing feature. LinkedIn makes it easy to access its Publishing platform while visiting your news feed, and writing the posts is easy with its WYSIWYG However, the penalty flag is thrown when it comes to ease of curating content for a brand account. Because publishing is done on an individual user's account, a community manager will have to track employees' posts and share separately on the Company page. There is also no easy way to categorize and organize all of your employees' contributions on this platform.
Medium:Like LinkedIn Publishing, Medium uses a WYSIWYG interface, creating a very easy-to-use atmosphere. Community managers will also find easy ways to curate content by assembling posts written by the company and employees in one location. Take SoFi, an online personal finance company, which uses its brand account, "The Future of Money," to share blog posts from SoFi and employees.
Winner: Medium
Being able to curate employee- and company-written content in one place gives Medium the advantage in this category.
Dual Threat
LinkedIn Publishing:Regardless of whether someone has a LinkedIn account, anyone can access LinkedIn Publishing's posts. This means it's easy to repurpose and share your employees' content on other social media accounts, like Twitter and Facebook. If an organization were to leverage an employee's Publishing contribution on its Company page, community managers can easily add paid advertising to promote the post via a Sponsored Update. However, the most cost-effective way to promote LinkedIn Publishing content is by building your own network on the platform. Your connections are sent a notification when a new post is shared on Publishing – for free.
Medium:Medium content can also be read by anyone, not just Medium users, which allows for easy repurposing on other social media platforms. While attending Content Marketing World 2016, I even learned that one session speaker found that sharing Medium posts on Facebook generated more impressions than when he shared a link to his blog. Medium also offers business accounts paid advertising via Promoted Stories, which allows for native advertising throughout the platform.
Winner: LinkedIn Publishing
If your organization is already using Sponsored Updates on LinkedIn as a part of its paid advertising strategy, LinkedIn Publishing outperforms Medium in this category.
Analytics
LinkedIn Publishing:Similar to its Company page analytics, this storytelling platform provides data on how many likes, comments and shares your content receives as well as detail on who is reading your posts, including number of visitors, what industries they are in, what their job titles are, where they are located and how they reached your content (traffic source). These metrics align well with how other social media platforms measure success and also provide insight into whether you are reaching your organization's core audience. Both bode well for proving ROI to your C-Suite.
Medium:Unlike LinkedIn Publishing, Medium shares metrics focused on the quality of the readership your brand and individual content attracts. Data is shared in 30-day snapshots and is categorized into views (number of impressions your post receives), reads (the amount of people who spend a long period of time actually reading your content, not skimming), read ratio (the number of quality reads your content receives compared with the number of views) and recommendations (how many people have suggested others read your post). If your C-Suite values quality over quantity, they may value these metrics more than LinkedIn Publishing's metrics.
Winner: Tie
Both of these platforms offer detailed and easy-to-digest analytics, but this category should go into overtime. The winner is really unique to each organization. What do you value more? Impressions and clicks? Then LinkedIn Publishing is for you. Meaningful engagement and understanding of the content you're sharing? Perhaps go with Medium.
Longevity
LinkedIn Publishing:LinkedIn Publishing is an extension of your LinkedIn account, where you most likely have hundreds of connections that visit the platform on a regular basis. There's also no question that LinkedIn Publishing will be around in six months. More and more users are tapping into this feature on a regular basis.
Medium:Although Medium has Twitter origins, it is a completely separate platform. Building a following on this platform will take time and effort. However, it may be worth the time. Medium will most likely be around in six months. Well-known publishers, companies and pundits (like sports commentator Bill Simmons) host their content on this platform and there's no word on that stopping any time soon.
Winner: LinkedIn Publishing
LinkedIn's overall user base continues to grow, and with this active audience base, your organization's and employee's content will  be able to thrive.
Overall Winner: LinkedIn Publishing
Check back next week for the final matchup of this series from my teammate Lisa Zone.
Want more Fantasy Social? Check out Angela Almasy's post: Instagram Stories vs. Snapchat Stories.