October 17, 2013


Last year, when Dix & Eaton celebrated its 60th year in business, we decided to mark our anniversary by giving back to the community.
Enter the "60 for 60" program, for which the firm pledged to contribute 60 hours of professional services time to help a not-for-profit organization, small business or start-up in Northeast Ohio achieve its mission.
More than 50 wide-ranging online applications were submitted, and a staff committee then reviewed and selected five finalists. The finalists – Bike Cleveland, Adoption Network Cleveland, MedWish International, Seeds of Literacy and Reflect Who I Am – were then encouraged to tap into their networks and social media outlets to urge people to vote for them via Dix & Eaton's Facebook page to help choose the winner.
After a week of tweeting, liking and sharing, Bike Cleveland was victorious and a bike safety public awareness campaign for the organization was soon underway.
D&E partnered with Bike Cleveland to help develop the messaging and visuals for the "Ride Together" campaign, including radio spots, billboards and even the wrapping of a RTA bus.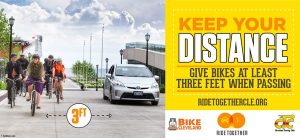 Recently, Cleveland Magazine honored Bike Cleveland and the Greater Cleveland Regional Transit Authority with a Best of Cleveland 2013 award for the public awareness campaign. This award is an honor for all parties involved to be recognized and for us to see the "60 for 60" program come full circle.
It was a pleasure for D&E to work with Bike Cleveland on this campaign to help make our streets safer for people who ride bikes. Seeing the message continue to be spread across Northeast Ohio makes it all the more worthwhile.
And don't forget, Ride Together Cleveland!