February 1, 2018
A famous Greek philosopher is credited with the quote: "We have two ears and one mouth so that we can listen twice as much as we speak." If you're not using social listening to better understand your audience, you're missing an important element of crafting effective communications.
As marketers and communicators, we are responsible for generating effective communications that drive results such as leads, sales and increased brand value. To help us achieve our goals, we have the luxury and benefit of direct, real-time access to troves of data about our audiences just waiting for mining and analysis to produce incredibly valuable and powerful insights. Insights about our audiences, their likes, dislikes, motivations, preferences, needs and desires. Insights about product and brand use and preferences. Insights about brand loyalty, influence and passion.
Accessing the right data and unearthing meaningful insights can create brand value and growth. Here are five areas to understand before embarking on such an effort.
1. WHAT ARE SOCIAL LISTENING AND ANALYTICS?
Listening is using targeted "campaigns" within available technologies to gather data about an audience, topic, brand, category or event. Interpreting the data into insights is where the analytics piece comes in. These activities can create powerful market insights that inform high value communication plans.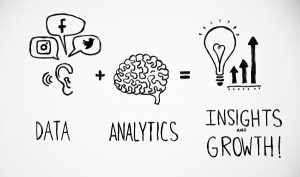 2. WHY SHOULD YOU CARE ABOUT SOCIAL LISTENING OVER OTHER RESEARCH APPROACHES?
Certainly, traditional market research methods play a role in businesses today. However traditional methods take longer and carry significantly higher costs. Social listening offers real-time access with virtually no waiting for data and insights, and identifies trends to uncover timely opportunities.
3. WHO SHOULD USE SOCIAL LISTENING AND ANALYTICS?
Social listening is an imperative for any organization concerned with its brand value. Beyond communications, organizations must understand how to improve products, seize new markets or identify new service offerings.
4. HOW DO BRANDS IMPLEMENT SOCIAL LISTENING AND ANALYTICS?
Brands can begin a program in a variety of ways. A leading example is to apply social listening software to gather data about specific audiences, then analyzing the data to identify actionable insights. Doing so allows brands to learn the answers to many questions such as:
How do our customers view our brand and products?
Where is white space in our category for an innovative new product offering?
How is our competition being talked about on social channels and by whom?
What types of content resonate with our desired audiences?
5. WHAT ARE SOME PRACTICAL EXAMPLES OF HOW ALL THIS HAS WORKED FOR ORGANIZATIONS?
At Dix & Eaton, we implement social listening campaigns through NetBase, a leading social media analytics platform. When listening is complete, we analyze the data and develop actionable insights to drive higher valued communications.
In a recent listening campaign we helped a healthcare organization better understand how its target audiences use social media to communicate about health conditions and service lines. We identified the types of content that resonates with these audiences. This helped the organization improve target audience engagement and better inform the community.
In another recent example, we deployed a social listening campaign to identify how a B2B manufacturing brand's customers were using social media to learn about new products. We also identified attitudes about the brand and its competition. Our analysis uncovered insights that were not found through other market research efforts. The resulting insights supplemented by other market research efforts helped direct marketing strategies to drive more qualified sales leads.
If you're interested in learning more, read my blog about putting your audience first. Or, contact me directly.
Please share your comments below.