May 4, 2017
If I had a quarter for every time I heard "I sent an email – did you get it?" – I'd be rich. The problem is, when it comes to internal communications and sharing information with employees, email communication is just one channel we can use to distribute information. But there are so many other ways!
As communicators, we typically focus on making sure the message is clear, approved and distributed on time. While all of those are very important, how you share the information with employees is just as critical, and here are three steps to help you discover the best way do so:
1. Consider the types of employees you have
The best way to share your information often depends on the types of employees you have within your organization. Here are some common employee types:
Office-based employees
Satellite office-based employees
Store-based employees
Field-based employees
Plant-based employees
2. Determine the communication channels you can use
Once you've determined the types of employees you have, it's time to start thinking about which communication channels would be most effective. Here is a sample of communication channels you may be able to use when sharing information with employees:
Email
Intranet
Digital TV screens
Employee app
Internal social media, such as Yammer
Phone calls
Text messages
Weekly, monthly or quarterly town halls
In-person manager communications
Bulletin boards
Employee newsletters
Podcasts
3. Now, play the Match Game
And now, match up your message with your employee type and the appropriate communication channels and voila! You have an informed employee base. This may be an oversimplification, but taking a fresh look at your organization like this can allow you to identify new channels, or refresh current channels, to make sure you're reaching your employees in the most effective way.
It may even be worth creating a chart that outlines the most effective channels for each employee base so you remember the multitude of ways to reach them. Something as simple as this may be helpful: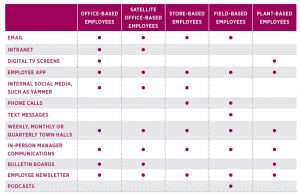 What do you think? Are you set up for success in your organization, or do you need to develop new channels? If you want to talk more over a cookie, send me an email.