It should go without saying that an effective sustainability program and sustainability communications must be durable, resilient and flexible – in other words, sustainable.
But, like any other initiative or program, sustainability programs and projects can get stale, become stagnant or even experience a reversal of progress. Thus, my five keys to "sustaining sustainability":
1) Balance two essential ingredients (structure and intangibles)
Programs need both structure (such as policies, guidelines/standards and rules of engagement) and intangibles (such as values, story-telling and daily engagement). Too much of one at the expense of the other will limit long-term impact.
2) Use "events" and milestones to reinvigorate the program
Doing a report, holding a summit or day of caring, and applying for awards provide special energy above the day-to-day grind of activities.
3) Show and tell signs of progress
Communicating during the "journey" and creating a slow build of activities are indicative of programs that are built for long-term success. The "low-hanging fruit" is often a great place to start, but eventually the "tough nuts to crack" will demand attention.
4) Focus on what matters to you and your stakeholders
The alignment between business objectives and stakeholder interests is critical. Do something that matters and involve your key stakeholders in that activity.
5) Identify "an owner who won't let go" (with support from the top)
Sustainability can't be just an assignment; the people involved must have a deeper interest in it and be able to rally others to the effort.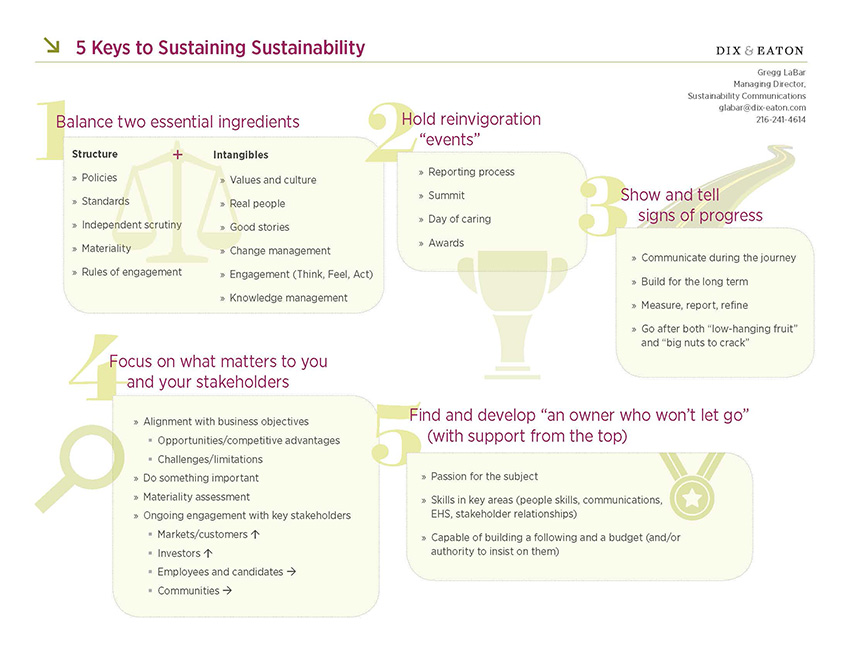 "Sustaining Sustainability" was the topic of a recent "deep dive" session held by the Institute for Sustainable Business Practice (ISBP) at Baldwin Wallace University in Berea, Ohio. My one-page handout for the event is available here for free download. Thanks to ISBP leader Professor David Krueger, my fellow presenters (Jill Ziegler from Forest City Enterprises and Jenita McGowan from Sustainable Cleveland 2019) and other participants for the lively discussion and new ideas.
So, what do you think makes sustainability sustainable?