Although there has been a recent trend toward using more plain English in proxy statements, most of these widely read and important documents are still not easy to understand. Some companies have come up with innovative ways to improve the readability of their proxy statements and to create a very effective vehicle for communicating their key messages to investors and the public.
A recent webinar hosted by Georgeson and Latham & Watkins, "2014 Proxy Season: What you should know as you draft your proxy statement and prepare for your annual meeting," mentioned several companies that have been using the proxy effectively to reinforce investor messages. As many companies are now preparing for the 2014 proxy season, I decided to dig in and see which companies have been doing something really unusual and compelling with their proxy statements.
Many large-cap companies are doing a good job with their proxies, including Allstate, General Electric, The Hartford Financial Services Group and Pfizer. But my favorite from the 2013 season is Coca-Cola's. It was nicely designed with some color and, more importantly, supporting charts and graphs that helped visually reinforce the story. It was also an easy read with clear messaging and easy to navigate online. Similar to its signature product, Coca-Cola's proxy statement quenches its investors' thirst for information in a palatable way.
Here are a few of the specific features that set Coke's proxy apart from others:
Intro Letter
The letter from Muhtar Kent, Chairman and CEO, was particularly well done. Within the letter, he directs readers to the pages containing the information that will interest them the most. It also includes informative corporate governance and compensation analysis sections. He reminds readers that 97% of shareholders expressed satisfaction with executive compensation the year before, and that the board and management continue to work hard to stay attuned to shareholder sentiment.
Proxy Summary
I especially liked the Proxy Summary found on pages 5 through 9. They are a Cliff Notes version that included highlights of the more detailed information that can be found later in the proxy. Included is a listing of director nominees along with tenure and committee membership, governance highlights, compensation highlights and an overview of how performance is tied to pay, including graphs depicting key measures of performance plotted against CEO pay.
I found this graph depicting Mr. Kent's accomplishments to be especially effective in telling the story to support performance and pay: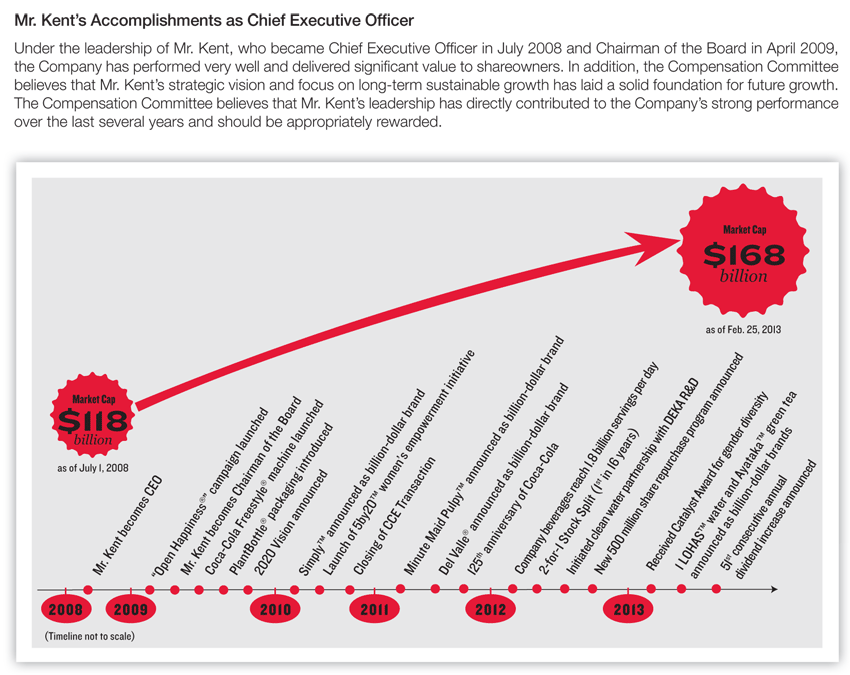 Director Bios and Qualifications
The first item to be voted on is the election of directors. Like most proxies, this one includes a lengthy overview (pages 17 through 29) on the election process, director nominations and backgrounds. But Coca-Cola's also includes the specific skills and attributes of the directors that align with the business characteristics of the company. This is followed by a description for each board member with their photos and a listing of how they meet the qualifications to serve on the board. All of this is summarized with a graph depicting the makeup of the board.
The proxy goes on with in-depth sections on director compensation, committee work, corporate governance and executive compensation. It's worth a look.
Coca-Cola is to be commended for blazing new trails with its proxy statement and showing how easy it is to use the proxy to tell a story in a way that engages investors and garners support.