There's more to thought leadership than just starting a blog. Too often, individuals and companies start a blog with the intent to update it frequently and become an influencer within their industry, but they fall short because a strategy is not in place.
In a past Harvard Business Review article, the author asked influencers in the business, political and media sectors to rank companies using the five behaviors Henley Business School identified as "common to high-impact or 'thought leader' organizations" – a pioneering spirit, rigor, objectivity, authenticity and clarity. According to this article, these traits categorize a person or brand as an influencer and thought leader.
If you can identify with these traits and feel passionate about a specific subject, you are ready to lay the foundation for a successful blog and perhaps become a thought leader. Here are five tips for success.
1) Find your niche
You can really build your personal brand and thought leadership through a successful blog that focuses on a topic in which you are a subject matter expert in. Much like the spirit and rigor mentioned in the HBR article, you should be passionate and knowledgeable about your subject and, most importantly, authentic. Take time to discover the topics you are an expert in and can offer the best counsel on. Make sure it's a subject you can write plenty about and that you have the tools to remain objective.
2) Know your audience
You know what you want to write about, but is it what your audience is looking for? Take time to really understand who your audience is and what they want. In the age of content marketing, we have learned that consumers don't want a message shouted at them. Instead, they want high-quality content that relates to their needs. Knowing this will help determine if you should have a solution-oriented blog, education-focused blog or another focus

3) Back your blog with research
While you are positioning yourself as a subject matter expert, show your readers that you are well versed and aware of what is happening and trending in the industry. Ideas backed by research become fact-based ideas rather than just opinion. In fact, adding links to your blog post helps your website's SEO. According to inbound marketing software provider, Hubspot, "Google was the first search engine to use links as a significant ranking factor. They viewed a link from one site to another as a 'vote' for the target site. The more votes you have, the more authoritative your site is considered."
4) Be consistent and efficient
It's important that once you start a blog, you are consistent in publishing posts. You certainly don't want to dilute the quality of your content, but you need to have a content and distribution plan in place. You can set up an editorial calendar to help map out new content and ways to repurpose previous posts. Don't forget to make the content SEO friendly.
You should also map out a plan for distribution. For example, leverage each blog post by sharing it via social media. Consider sharing the content in a newsletter or email blast. Don't forget, you can repurpose this same post in the future.
At Dix & Eaton, we all contribute to the blog. Individuals write about subjects they are experts in. We share our blog posts on our Twitter, LinkedIn and Facebook company pages. Additionally, our authors push their blog post out through their personal social media networks. We distribute a monthly newsletter that is a roundup of that month's blog posts. Our social media teams repurpose and reshare blog content throughout the year. Below is a look at the distribution of a D&E blog post.
5) Set up measurements
The only way to truly know if your blog is performing successfully is by setting up measurements. You should consistently be reviewing analytics to see if your blog is reaching readers and performing well. If it's not, these measurements will help you re-evaluate your blog strategy.

The following blog metrics will help you measure for blog success:
Blog subscription growth
Social media shares (Social Media Examiner shares these 8 Ways to Improve Social Shares for Your Blog)
Website/blog traffic
Clicks within a newsletter or email marketing piece
Comments/engagement
Below are samples of analytics you can start using today.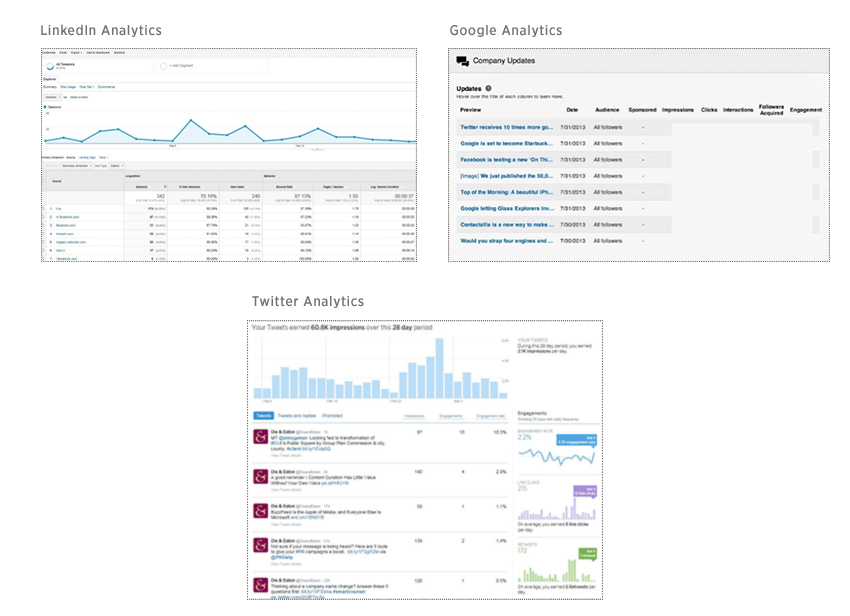 These five tips are meant to help you lay the foundation for your blog. It's important that once you get it up and running, you continually monitor your blog's performance to ensure it is meeting your objectives measurement goals.
Would you like to talk more about blogging and thought leadership? Or, do you need help analyzing and restructuring blog metrics? Contact me today.
Haven't committed to developing a blog and wondering if a blog fits into your marketing mix? Content Marketing Institute offers 12 reasons to start a blog.