The year 2014 was a great one for content marketing. Early reports indicate that marketers are creating more content than they did just a year ago. According to the Content Marketing Institute (CMI) 2015 benchmark report, 86% of B2B marketers and 77% of B2C marketers are using content marketing. However, only 38% say they are effective at it.
Regardless of whether you have a content marketing program, the new year is a great time to take a step back and review your content goals, content success and content challenges from 2014 to pave the way for a content-rich 2015. Here are six content marketing New Year's resolutions to focus on in 2015.
1) Make your content more visual
Research has shown that 90% of information transmitted to the brain is visual, and visuals are processed 60,000 times faster in the brain than text. (Sources: 3M Company and Zabisco). With the human attention span waning (average of 8 seconds), enhancing your content with photos, graphics and videos is a great way to make your content stand out and to increase overall engagement. A boring report can turn into an engaging, even interactive piece as an infographic. A tech tip or demonstration can be transformed into a quick, how-to video.

2) Conduct a content audit
D&E's Lisa Zone recently wrote a blog post about planning for 2015: KEEP, STOP, START. The article encourages readers to take a good look at what their communication tactics are (in this case we'll use content marketing) and work through what content they will keep, what content they will stop producing and what new content they will start creating. A content audit is a great exercise to accomplish this. With an audit, you will discover the content you have, how you're using it, who it's reaching and if it's serving its purpose.
Wondering what content you would audit? Check out the handy checklist in our whitepaper: Three Steps to Deliver Your Content Marketing Strategy.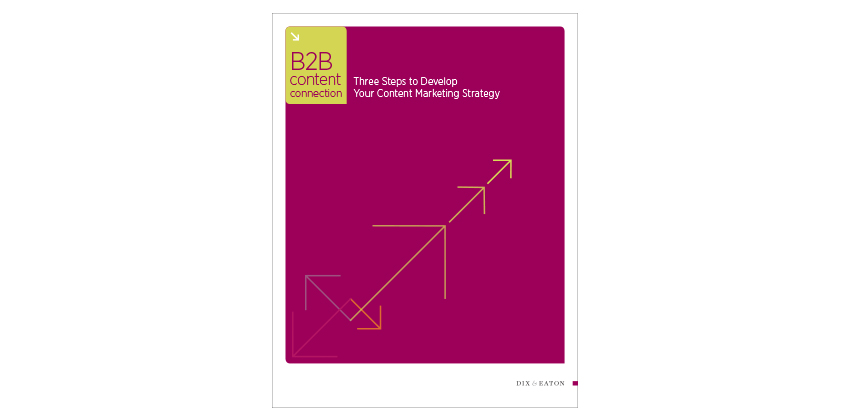 3) Set up measurement metrics
As you begin to plan your content strategy, it's important to make sure you have goals and measurements in place. Analytics will show ROI, lead generation and overall program success. Additionally, some analytics can go a step further to show what buyer segments it reached and in what stage of the buying cycle and what the recipient did with your content. Roughly 50% of CMI's 2015 benchmark survey respondents cited measuring content effectiveness as their biggest challenge. It was the number-one challenge cited by B2C marketers.
A good content marketing program requires continuous evaluation to keep the program on par with your business objectives. Measurement tools and analytics will help do just that (see example below). Some of the more popular tools include Radian 6, Hubspot, Brandwatch, Marketo, Kapost, Google Analytics and Marketing.ai.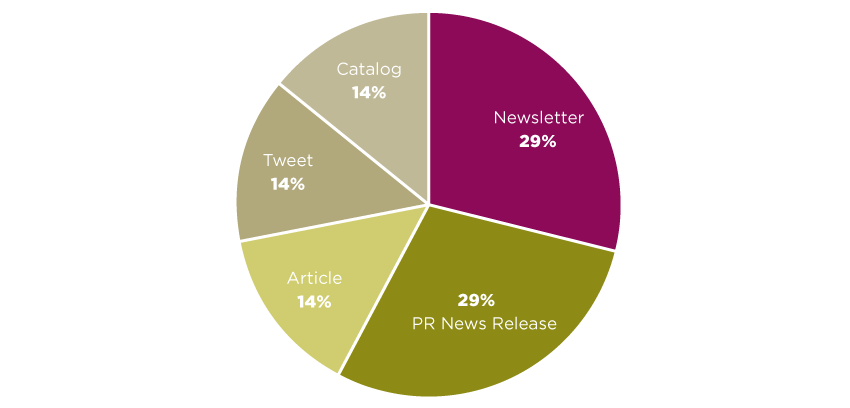 4) Document your strategy
The only true way align your business objectives with a content marketing program is through a content strategy, and a written strategy is the best way to hold yourself accountable to reaching those goals and evaluating the program. Every time you create a piece of content you should be able to answer why you are creating it, who it is targeting, what you want viewers to do with it, how it can be repurposed and how to measure it. This should all be outlined in a documented strategy that all team members can adhere to.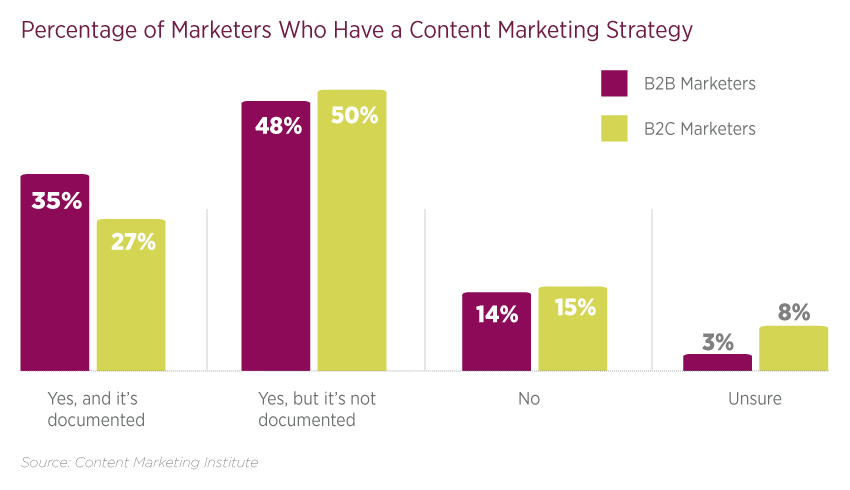 5) Become a storyteller
So you produced a large quantity of content last year; but was it quality content? One thing we have learned over the years as content marketing continues to expand is that customers don't want to hear about you. They are spending less time reading and watching advertisements and spending more time reading custom content. Studies show that 60% of customers feel more positive about a company after reading custom content on its website (source: AOL and Nielsen). They want you to give them content they want and need. They want solutions to their problems, tips, best practices and feel-good stories. As you develop new content in 2015 and even look back at previous content, make sure you are producing quality content.
D&E's Gary Wells discusses talking from your brand and not about your brand in the video blog below.
6) Keep up with social media
Social media has proven to be a key content marketing tactic and has become the top delivery channel for B2B and B2C marketers according to CMI's 2015 Benchmark Survey. If your social media channels have become stale, now is a great time to reinvigorate them with quality content your readers will love and share. Don't let your pages go dormant. Aim to post at least three to five tweets per day, one or two Facebook posts per day and one LinkedIn post per week. YouTube and Instagram are additional great options for sharing visual content.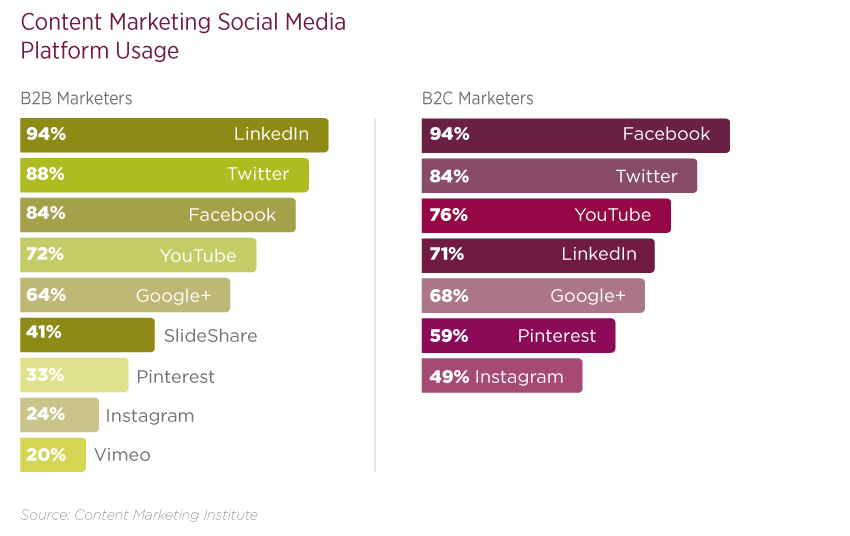 Keep these six content marketing New Year's resolutions and you will be on your way to content marketing success in 2015!
Need help with a content audit or with developing your content strategy? Contact me today!