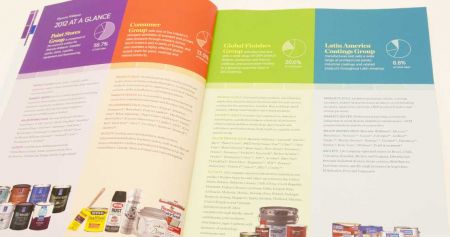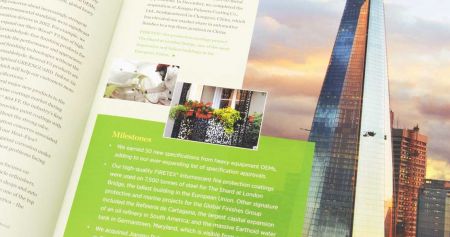 Sherwin-Williams Annual Report
With more than 34,000 associates and nearly $10 billion in sales in 2012, The Sherwin-Williams Company is the largest paint and coatings company in the United States and number three in the world. The company manufactures products under well-known brands such as Sherwin-Williams®, Dutch Boy®, Krylon®, Minwax®, Thompson's® Water Seal®, Ronseal™, Becker Acroma™, Sayerlack®, Euronavy®, Altax™ and many more.
By most any financial metric, 2012 was a record year for Sherwin-Williams. In addition, CEO Chris Connor was named one of the best CEOs in America in 2012 by the financial blog 24/7 Wall Street. In early 2013, Ethisphere named Sherwin-Williams one of the world's Most Ethical Companies.
Sherwin-Williams asked Dix & Eaton to help take its 2012 annual report "up a couple levels" to match the company's results and outlook. D&E's approach was to use large, bright photography to feature high-impact projects and products. A dramatically redesigned global map spoke to the geographic diversity and international growth potential of the business. While emphasizing the success of the overall business, the team also enhanced the discussion and clarity around the company's four distinct business units: Sherwin-Williams Paint Stores, Consumer Group, Global Finishes Group, and Latin America Coatings Group.
What We Did
Graphic Design
Writing
Production
Looking For Something Similar?