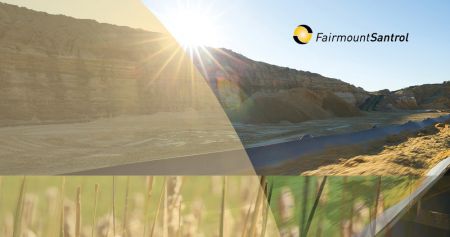 Fairmount Santrol New Name, New Stock, New Challenges
Challenge:
For Fairmount Santrol (NYSE: FMSA), a leading provider of sand-based products for the oil, gas, industrial and recreational markets, 2014 was a momentous year. The company, then known as Fairmount Minerals, was experiencing an exciting and extended period of growth and was about to enter a new chapter in its corporate history with two major announcements – it was adopting a new name, and it was launching an initial public offering. Both of these transformative events would be announced that August at the Fairmount Family Summit, a corporate-wide event held every three years that embraces the company's commitment to Sustainable Development and Appreciative Inquiry.
Solution:
From the initial process of deciding on the new name, through the summit announcement and IPO, and for ongoing internal and external communications efforts, Dix & Eaton has provided essential support for Fairmount Santrol. For the name change, we conducted research, interviews and analysis and provided a range of possible new names. The name Fairmount Santrol was chosen to reflect the combined strength and pioneering history of the company's prominent Fairmount Minerals identity and its leading market brand, Santrol. Dix & Eaton also redesigned the company's logo, created corporate identity guidelines, developed a multilayered communications strategy and updated website content for launch following the announcement.
Many of the employees and other stakeholders attending the summit would be future holders of the stock, and we worked closely with the CEO and her team on the important keynote presentation, as well as other logistics and communications materials for the event. As the company prepared for its IPO, we provided a wide range of support for management including training on disclosure requirements, investor relations and media relations, along with message development, investor presentations and assistance in establishing an investor relations function. In the months that followed, D&E worked with Fairmount Santrol on its first earnings release, conference call, annual report and sustainability report as a newly public company, as well as updating its overall business messaging.
Result:
The Fairmount Family Summit was a major success, as employees, customers and other stakeholders embraced the new name and logo, with many summit participants quickly incorporating the logo into their skits and presentations. Following Fairmount Santrol's IPO in early October, about a dozen analysts initiated coverage of the company. Although the industry entered a cyclical downturn almost immediately following the IPO that has impacted the share prices of Fairmount Santrol and its peers, analysts continue to cite the company's long-term growth potential and differentiated value drivers.
What We Did
Corporate Identity Development
Messaging
IPO Communications
Looking For Something Similar?