Content Marketing
Content marketing is the art of connecting your customers and prospects with information they need, not by trying to sell them something. In other words, it's all about the content and the value it delivers. Chances are your organization is already engaged in some form of content marketing. But are you maximizing this effort? Do you have a documented strategy for content marketing? Here's our approach to it:
We can help with content marketing by using our three-step process: Discover, Develop, and Deliver.
Discover: In the Discover phase, we determine the overall business objectives, obtain information to understand buyer personas, conduct a communications audit to determine content gaps, and identify the types of content our customers want.
Develop: The Develop step integrates our findings into a communications strategy by setting objectives, developing specific buyer personas for the target audiences, articulating our brand story and specifying content forms, such as digital, social, print, etc.
Deliver: Lastly, the Deliver step involves defining roles, implementing planned tactics, producing content and engaging stakeholders according to the strategy.
Learn more about our approach to content marketing.
Related Practices
Related Specialties & Situations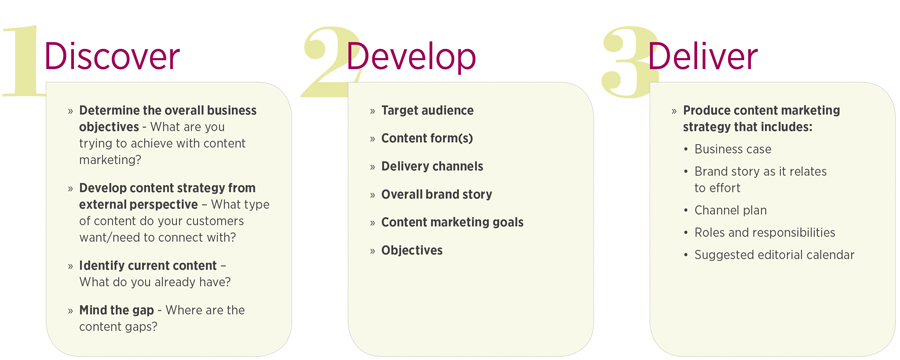 Content Marketing White Paper
Download this complimentary white paper to learn more about our three-step process to develop an effective content marketing approach for your organization.
Download the report