Retargeting is a well-known practice in the advertising industry, giving advertisers the ability to tag website visitors and target them with a banner ad after they've left the website and continue to browse online. Now, Twitter has reworked the concept to fit within the social media realm.
Twitter's new tailored audiences product provides advertisers with tools to reach their website visitors through Twitter-promoted posts and promoted accounts. Advertisers can easily define groups using the website browsing behaviors of existing and potential customers, then connect with them on Twitter through a targeted ad. That means you can target audiences who have recently visited your site, searched for your product or brand category in a search engine, made a recent purchase, abandoned a cart, or clicked on a specific Web page. The best part is that you reach users who are already interested in your product.
There are two main approaches to Twitter Tailored audiences.
CRM data
Advertisers can create an ad using email lists from their CRM data. This is a great option if your goal is to reach existing customers. Email addresses are pulled from your CRM data and matched to Twitter accounts. From there, the list is segmented further by searching profiles, recent posts and keywords. Twitter uses the example of a fashion retailer wanting to advertise a spring clearance sale to its cardholders on Twitter. Cardholder information is matched to Twitter accounts, allowing the company to show the matched users a Promoted Tweet with their message.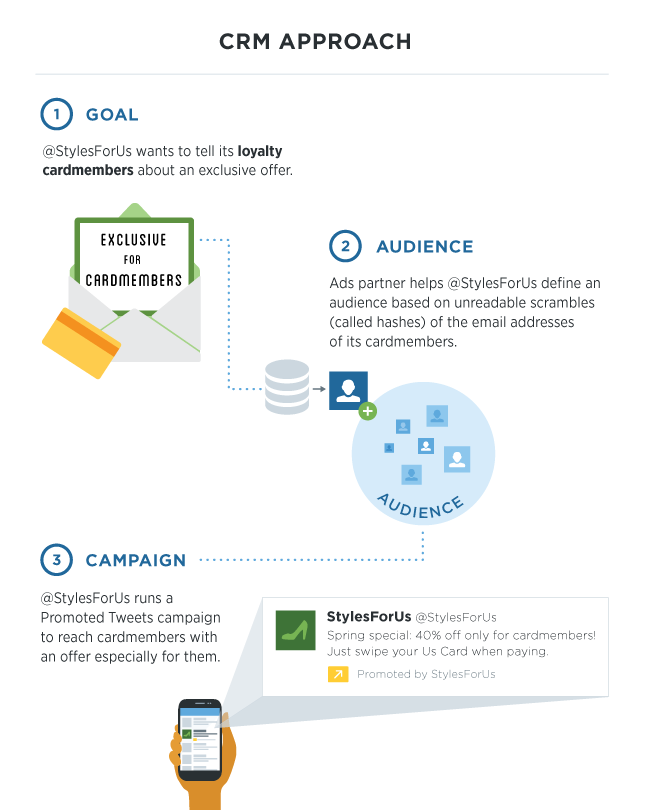 Twitter IDs
The second approach to creating a tailored audiences ad uses Twitter IDs. This option is ideal if your goal is to gain potential/new customers. Using Twitter IDs helps identify which accounts on Twitter are most likely to become potential customers by using public information such as a user's bio information, their past tweets, follower count and verified status. Twitter illustrates how the fashion retailer mentioned before would use this approach to reach new prospects on Twitter who are influencers in fashion. By using information on Twitter including a user's bio, verified status or past tweets, the company can identify special accounts on Twitter that are matches as potential customers. These customers receive a promoted Tweet.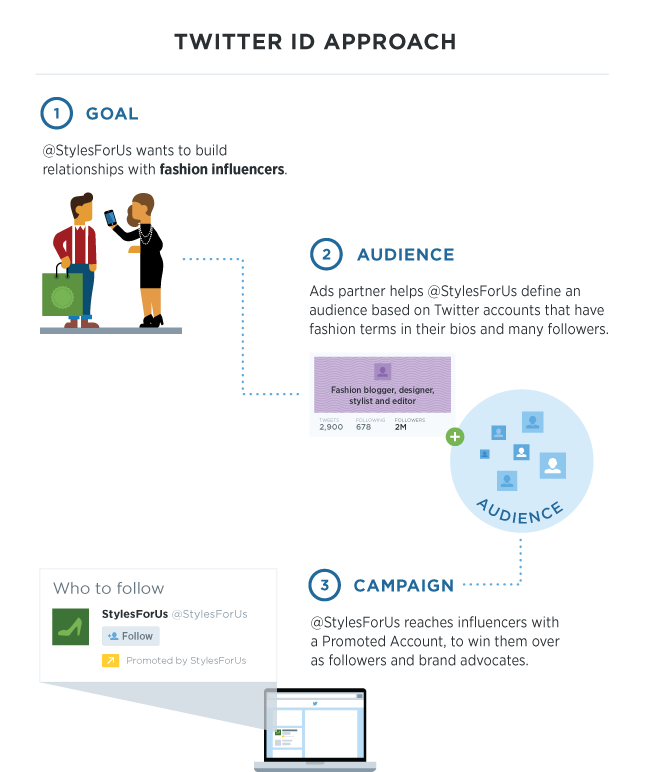 To help further define an audience, Twitter also has an exclusion tool that can remove users based on their Twitter ID associated interests and keywords or exclude certain customers or users using CRM data.
While tailored audiences is still relatively new, it is an advertising tool that is sure to catch fire. So why not become an early adopter.
Photo credits: Twitter Advertising Blog