Having quality content and a solid content strategy are two crucial elements of content marketing. It's not about creating a large quantity of content and churning it out to the masses. It's about really delving in and identifying customers' biggest concerns, needs and interests, and developing content around those ideals.
At Dix & Eaton, we've been content experts for over 60 years, since long before the notion of content marketing was conceived. These days, when it comes to figuring out why content isn't making the cut, we typically find four main culprits:
1) You're not giving customers what they want.
Have you identified your customers' pain points and how you can provide solutions to their problems? If customers aren't receiving relevant content and it's not providing a solution to their problem or need, then your content is likely to get passed by.
2) You haven't truly defined your target audience.
Before you start developing content, you need to determine who your target audience is and what content delivery channels will reach them. Take time to define your buyer personas by mapping out the buyer journey to determine what content they need and at what point during the process they should receive specific content pieces.

3) Your content doesn't have a call to action
Let's say you've created some amazing content and plastered it across your content delivery channels. But nothing is happening. Could be you haven't asked for anything. So, make sure that every content piece and delivery has a call to action. It might be as simple as including social media share buttons, a contact form to download a whitepaper or a link to forward. But if you don't ask for anything, don't expect anything in return (see example from Hubspot below).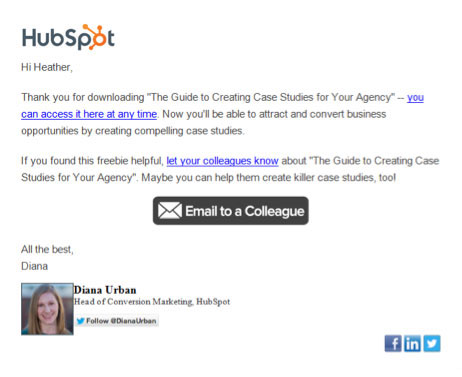 4) You don't have a content strategy
Content Marketing Institute's 2014 report revealed that 93 percent of B2B marketers say they are using content marketing. Yet only 44 percent of those B2B marketers have a documented content strategy. A strategy isn't just a fancy plan, it's a road map linking your customers to content they want, in places they want to find it. A strategy will help define your customer, your content gaps, content delivery methods and how to measure success.
Content plays a very important role in B2B marketing. Having a documented strategy that addresses the four points above will help you achieve content marketing success.
Interested in more?
Give me a call at 216-241-2148 or send an email to learn more about our content strategy capabilities.