Happy 2014! Are you ready for your conflict minerals disclosure? We're rapidly approaching the Securities and Exchange Commission's May 31 deadline for the first required disclosure by public companies involved in manufacturing. If the requirement applies to your company, you'd better be making good progress in collecting, compiling and analyzing information to determine the necessity, extent and content of your disclosure.
Covered companies are required to determine whether their products contain certain "conflict minerals" – tantalum, tin, gold or tungsten – from regions in or near the Democratic Republic of the Congo. They will be required to disclose that information utilizing Form SD, which was provided in the 356-page final SEC rule, and to establish auditing and due diligence processes to evaluate the source and chain of custody of those materials. The new requirements are a result of the SEC's implementation of the conflict minerals provisions of the far-reaching Dodd-Frank Wall Street Reform and Consumer Protection Act of 2010.
The compliance challenges are daunting (per the SEC flow chart on this page) and will require companies to draw upon expertise in legal, EHS, IT, procurement, internal audit, finance and more. Beyond compliance lie some significant communications challenges – and perhaps even opportunities: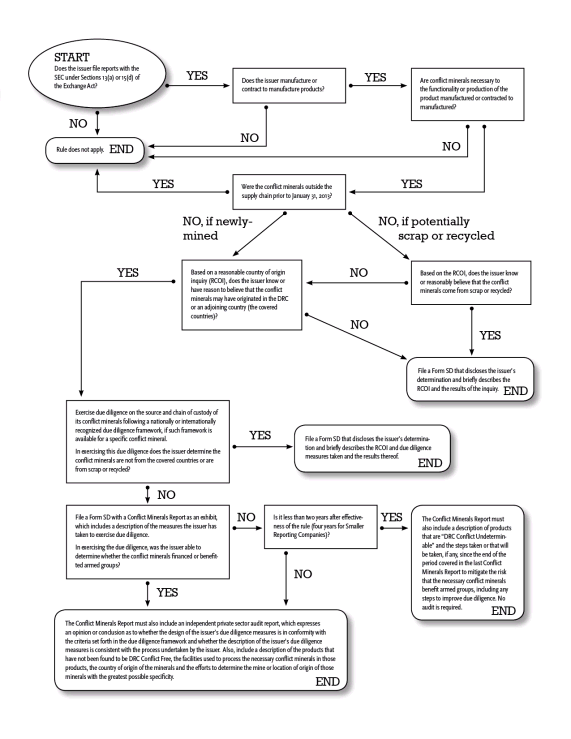 Given that the SEC is the regulating body, you may decide to include the conflict minerals discussion in your annual report (although the SEC decided against requiring it). The Form SD filing is an annual requirement, with a May 31 deadline for each calendar year (regardless of when your fiscal year ends).
If you publish a sustainability/corporate social responsibility report, you will most likely want to add your conflict minerals position to those materials.
You should have a conflict minerals policy, and you may want to publish it online, along with your policies on supply chain responsibility and supplier expectations.
On or about May 31 and in the days and weeks thereafter, conflict minerals disclosures will likely gain media attention. Some companies may even issue a press release to announce their filing (although we don't recommend doing so). However, media that follow your company may ask about your conflict minerals assessment and response. Being prepared with some key messages and talking points would be prudent.
Consistency and transparency will be very important. Providing the same information to all stakeholder groups and across multiple years is not only a best practice but also an expectation.
As the conflict minerals disclosure requirement nears its first deadline, the time for developing the communications strategy and tools is also at hand.